Candlepin Bowling Tournament: January 29
January 11, 2017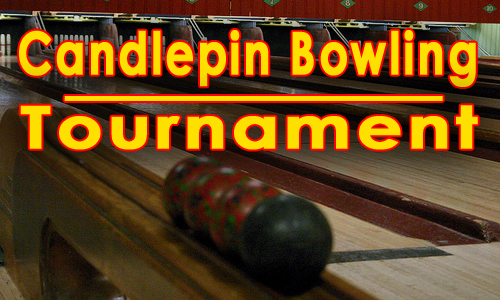 2017 is coming quickly and so are the state events planned by SMC Alex Dyer and his suite. The first event for the new calendar year is the annual Candlepin Tournament! The tournament is slated for Sunday, January 29, 2017, at Lanes and Games in Cambridge.

Registration is
$80 per team (includes shoes) and is open until January 23.
Registrations MUST be submitted online this year and
no late registrations will be accepted
. Your chapter is allowed to combine with oth…
---
South Coastal Installation: January 28
January 03, 2017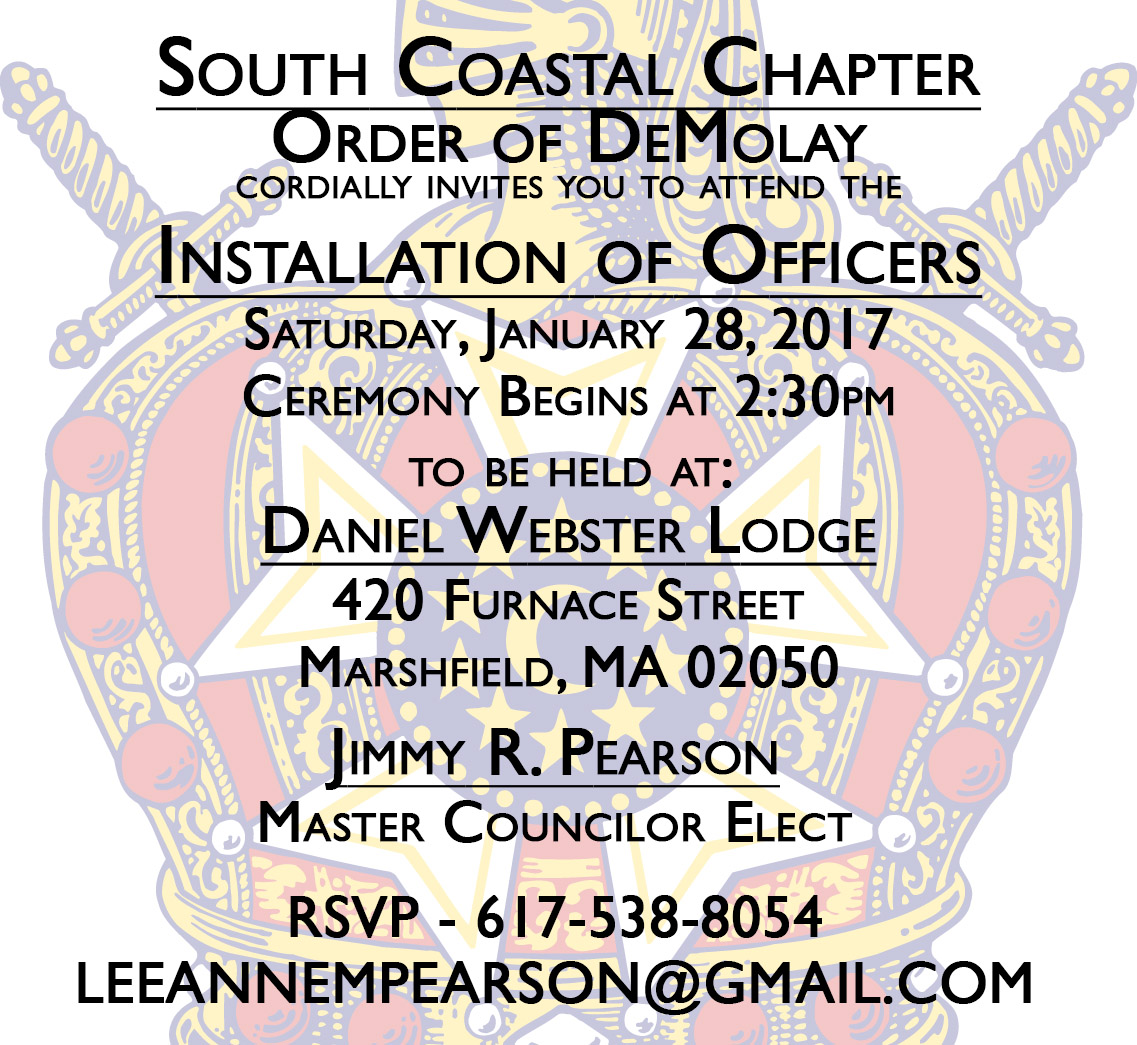 RSVP at leeannempearson@gmail.com
---
DeMolay University 102: February 18
December 31, 2016

Ready for round two? DeMolay University is back to teach you how to survive your home life, school life, and DeMolay life! Learn how to strive, whether you are Francis Underwood to Bear Grylls. There's no need to worry if you missed the first session, as all the material is accessible to everyone!
The second session of DeMolay University will take place at the Weymouth Masonic Hall on February 18th and will run from noon to
5:00pm
. Registration ends Sunday, February 12.…
---
Cape Cod Open House: January 30
December 30, 2016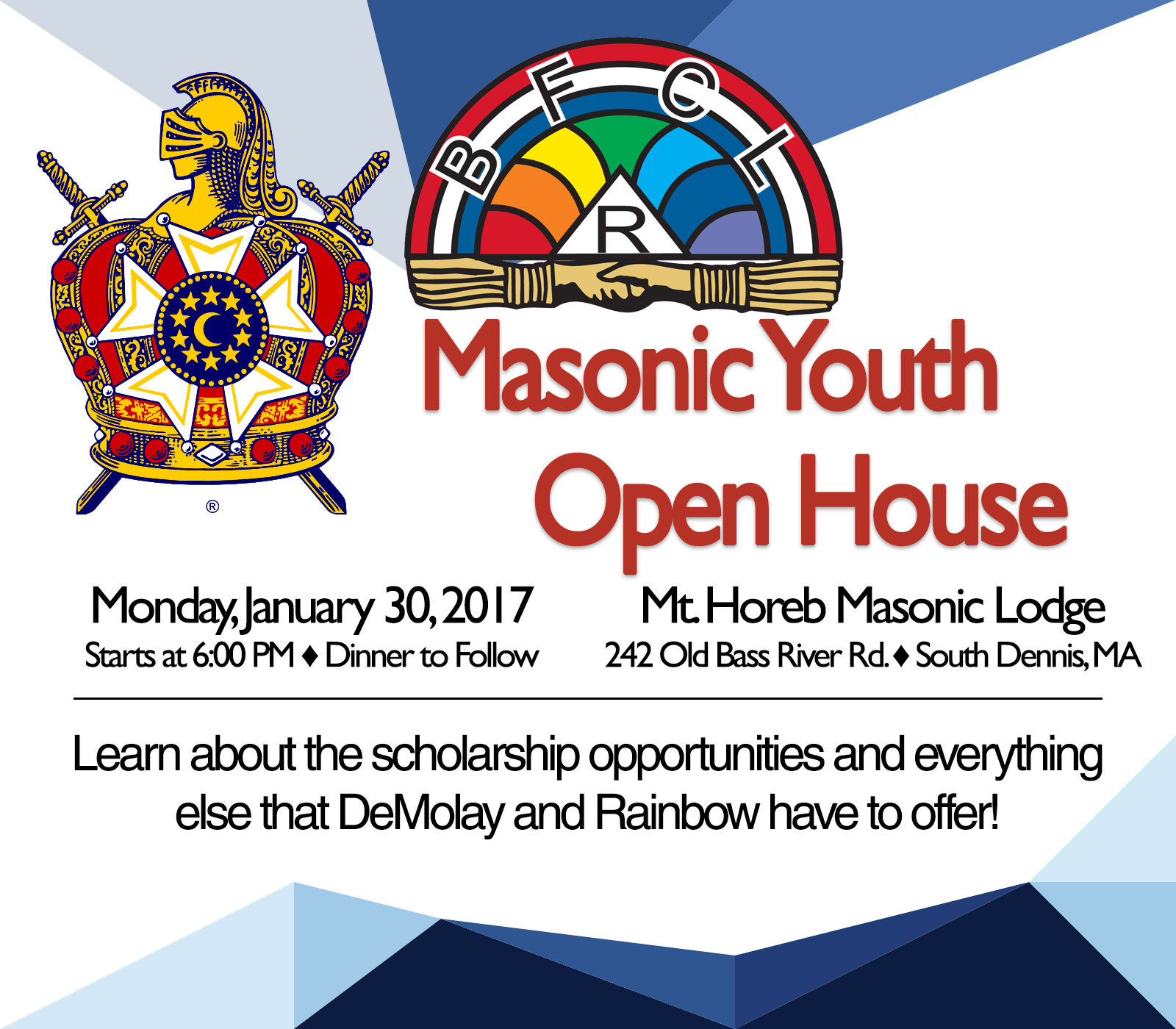 Families with children who would like to know what DeMolay and Rainbow have to offer and information on valuable Scholarship Opportunities to assist in financing the high cost of a college education.
Presented on behalf of DeMolay and Rainbow of Massachusetts.
Funded by a generous gift from Marine Lodge Falmouth, Mass
For more information and to RSVP please contact
---
Tekoa Chapter Game Night!
December 28, 2016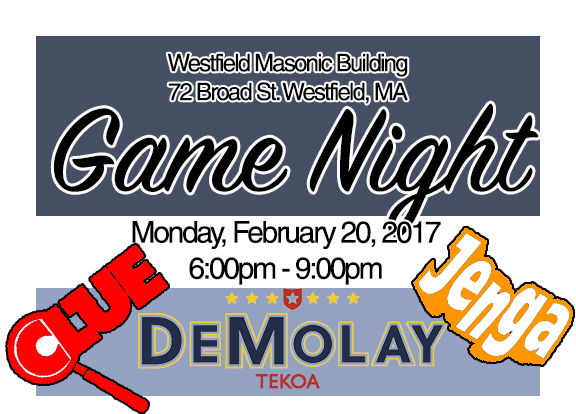 Upcoming Events
ACRs are Live and Online!
October 06, 2016 to February 01, 2017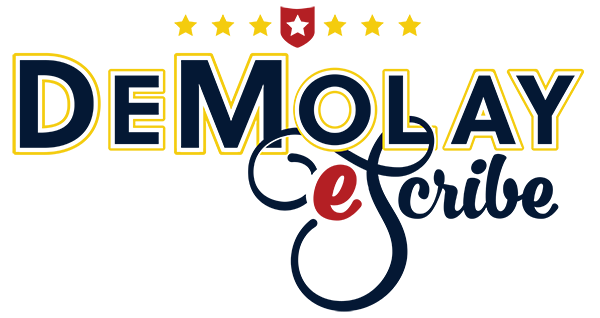 Advisor Continuing Registrations are live! However, there is a new twist this year. As of October 1, 2016, ACRs and AWAs (Adult Worker Applications) must be completed online using DeMolay International's eScribe system. Each advisor must fill out their own ACR online and cannot be done by another advisor. Here is a rundown of some FAQs provided by DeMolay International:
Is there a walkthrough of the Continuing/New Advisor Application process?
Read more...
---
Tentative Dates for Massachusetts DeMolay
December 01, 2016 to August 01, 2017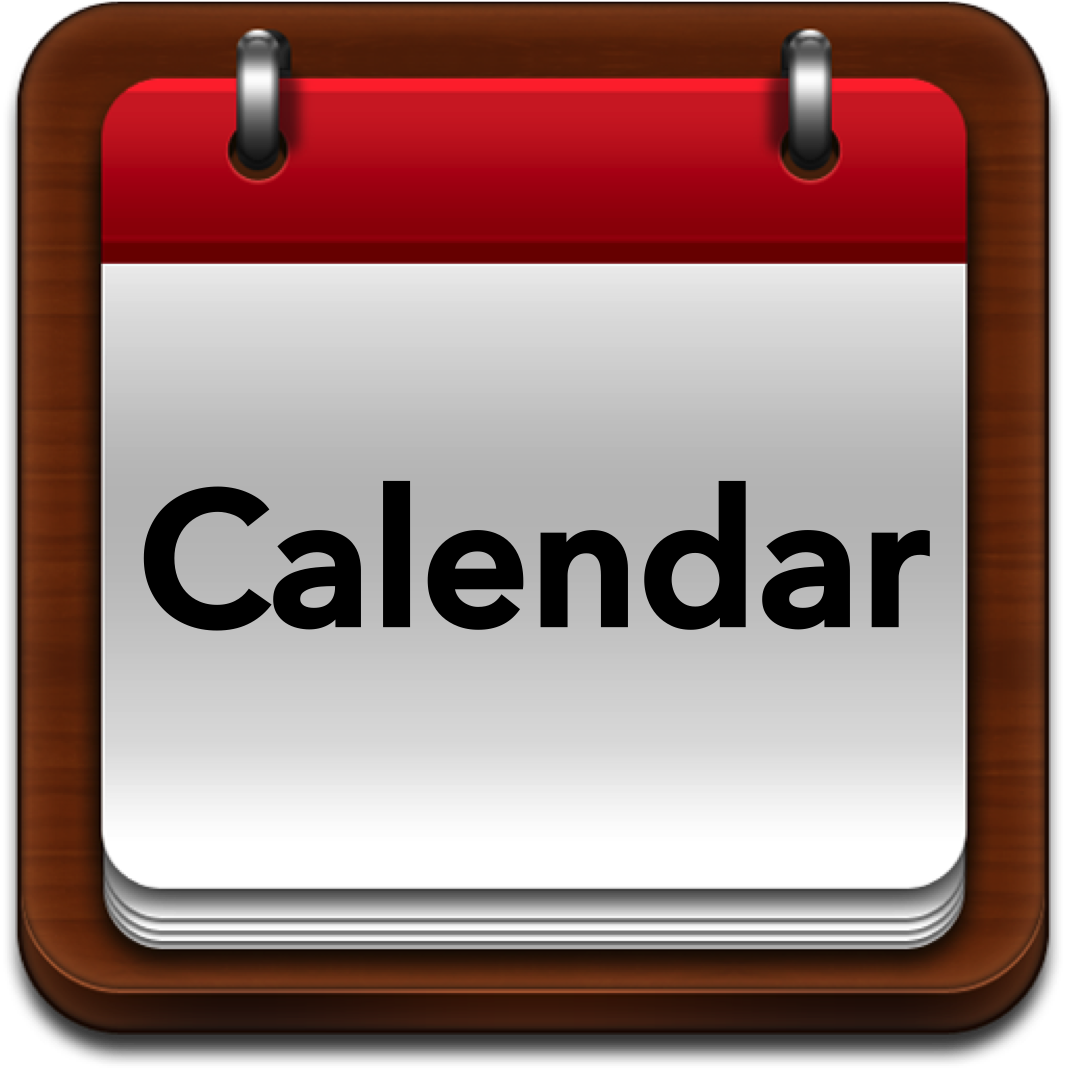 Can't wait for the next state wide event to roll around? Then check out what's coming down the pipeline for Massachusetts DeMolay! Below are tentative dates for upcoming state events. This page can be utilized by prospective Master Councilors to help solidify their upcoming terms with future state events. Consider dates and times confirmed if identified as so. As more events are created and confirmed, they will be added to this page:
Read more...
---
Chapter Meeting Moves!
December 02, 2016 to April 30, 2017
For circumstances big and small, a Chapter's Regular Business Meeting may need to be moved off of the normal date, time or place. Here is an up-to-date list of all meeting moves from across the Jurisdiction. Be sure to check for updates before making a visitation!
Chapter

Meeting Night

Change

Greater Boston
Jan. 21
Time Change:
Opens at...
Read more...
---
Scholarships are Active
January 01, 2017 to April 02, 2017
Scholarship applications for the 2017/2018 academic year are now available from several masonic organizations. You can also find these applications on the Resources (Downloads) page.
Each scholarship has a different...
Read more...